These seriously have to be the best blueberry muffins I've ever had! The batter is just the perfect consistency and the topping is to die for! This recipe guarantees you 12 big, bakery sized muffins every time!
Picture does not do these justice! The best looking ones had already
been eaten before I could snap a picture!
I stumbled upon
this recipe
the other day and had to try it. I was attempting to do the whole "swap applesauce for the oil trick" but ended up with a doughy consistency. That's certainly not what you want when making muffins! So I added a 1/4 cup of oil and about 1/4-1/3 cup of milk and got the perfect consistency.
I found the cinnamon to be too overpowering. I cut the extra 1/2 teaspoon out of this recipe, but it would be great if put into the batter. It was just too concentrated in the topping. This batter would be great with any other flavor, just don't add the cinnamon if it doesn't work.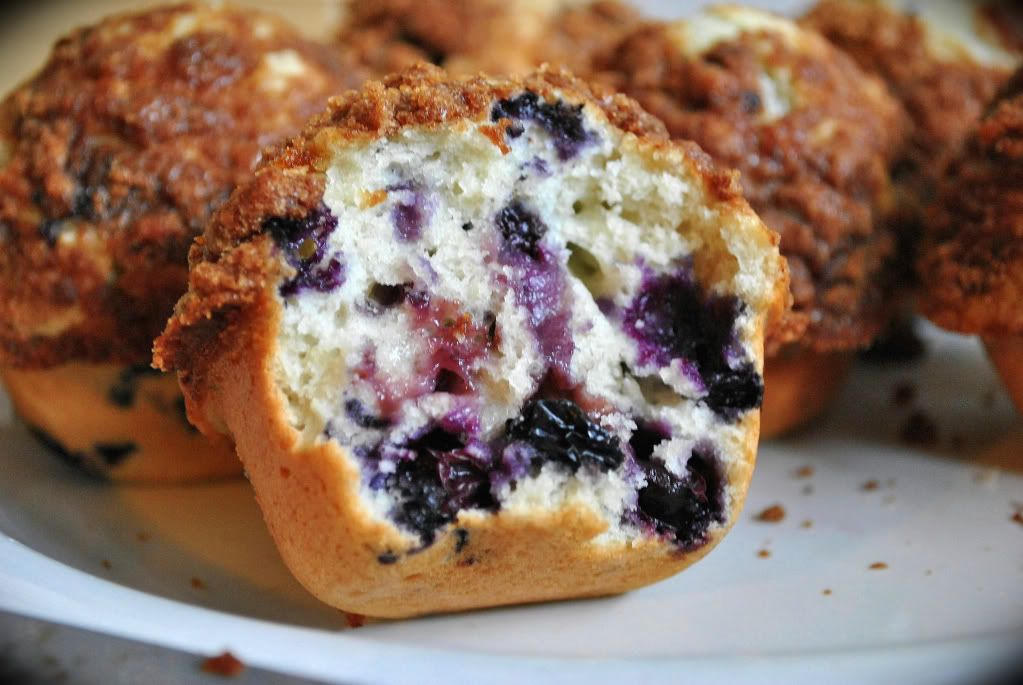 Just look at all that blueberry goodness!
The key to muffins is not to over-stir. It's ok to have a few small lumps. Be careful when stirring in your blueberries that you don't break them!

2 Cups of Blueberries*
3 cups all-purpose flour
1 1/2 cups white sugar
1 teaspoon salt
4teaspoons baking powder
2/3 cup apple sauce
2 egg



2/3 cup milk
1/4 cup oil
Topping
1/2 cup packed brown sugar
2/3 cup all-purpose flour
1/4 cup butter, cubed
1 teaspoons ground cinnamon
Pre-heat oven to 400 degrees. Mix 3 cups Flour, sugar, salt, and baking powder together. In a separate bowl mix together the apple sauce, eggs, milk and oil. Slowly add flour mixture into the liquid mixture. Gently fold in the blueberries taking care not to break them. In a separate bowl mix the remaining ingredients with a fork being sure everything is well blended--this will be the topping. Spray the entire muffin pan with non-stick spray. Fill each cup to the top with batter. gernerously sprinkle the topping on each muffin. Bake for 20-25 minutes or until knife inserted into the center of muffin comes out clean.
*You can use fresh or frozen blueberries. Frozen will most likely be the most consisten in flavor.
To thaw, rinse under cold running water. Be sure to drain well.
Here's the recipe card to print and add to your recipe box!! (click to enlarge)
Here's Where I'm Linking Up!
Pin It